The Easter holidays 2024 are approaching. Ascona-Locarno has fantastic ideas and offers for family holidays or a short break.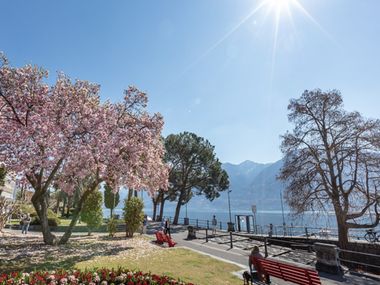 The Easter holidays are just around the corner. It's the right moment to enjoy a few days in the sun with the family for a great mix of activity and relaxation.
Do the same with Ticino's cultural offerings and take it easy – you're on holiday! Unwinding in the hotel, putting your feet up in a holiday apartment or relaxing in the natural surroundings of a campsite: whatever suits the needs of your family best.
How to enjoy perfect Easter holidays in? Do a range of things!
The region's 1400 km network of footpaths and bicycle routes for all ages lead to the furthest reaches of the surrounding valleys.
Water devotees can splash about in the Locarno lido with its various pools or whizz down the water chutes. Treat yourself to the local gastronomy and discover the region's specialities. Still haven't found something to inspire you? The local events offer something for everyone enjoying a break by Lake Maggiore.
The Ascona-Locarno family destination is keen on making visitors feel at home here, with an emphasis on enjoyment and being in the great outdoors. The region's mix of activities and nature make for the perfect Easter holiday with the family, whether you're here for thrills or relaxation.