D1 - Monte Comino – Comologno
Monte Comino is a vast mountain plain in Centovalli, 1200 metres above sea level. It is easily reached using the efficient train and cable car combination. This is your starting point for this fantastic experience.
First, you need to reach Comologno. Strap on your backpack and set off at a good pace for Pizzo Ruscada! The panoramic trail winds its way along the mountain ridge separating Centovalli from Onsernone Valley before dropping down to the valley floor via the lovely Onsernone Forest Reserve. Allow about 6 hours for the overall excursion. Visit the church of San Giovanni Battista in Comologno and admire the many elegant palaces before your evening meal and retiring to your lodgings for the night.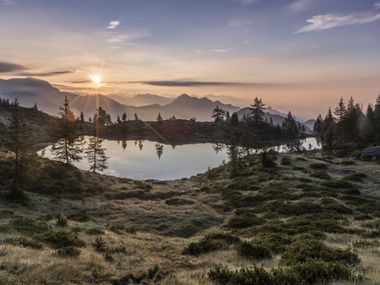 D2 - Comologno – Alpe Salèi – Capanna d'Alzasca
The next morning you head up to Alpe Salèi. The route is a bit steep at times, but not particularly difficult. Calculate about two hours, with plenty of stops to admire the marvellous scenery while reaching for your destination.
If not in any particular hurry, you might want to spend the rest of the day here, in this wonderful corner of alpine paradise: go as far as the lake or explore some other parts of the area. You now take the cable car down to Vergeletto (the rest of the day's walk is long and so it is best to save your energy where you can). Allow about 8-9 hours to reach Cevio, in Maggia Valley. You could always split this walk, by spending the night in the Capanna d'Alzasca mountain hut, half way along the route.
D3 - Capanna d'Alzasca – Cevio
Follow the official path to Cevio for about 4-5 hours hiking, reaching Cevio just in time for a delicious picnic. Then spend some time learning about the incredible local cultural heritage (a visit to the Valmaggia museum is highly recommended).
D4 - Cevio – Capanna Cristallina
Continue to Bignasco and then follow the Sentiero Cristallina that takes you through an exceptionally beautiful and fascinating part of Maggia Valley: the Bavona Valley.
The unchanged landscape with its many hamlets, rural way of life and fantastic scenery will leave a lasting impression on you. Take the cable car from San Carlo up to Robiei. The Capanna Cristallina mountain hut is just a couple of hours away. You decide whether you want to stay the night here or continue. Check the Pesciüm-Airolo cable car timetable if you want to use this the next day and make sure you arrive on time.
D5 - Capanna Cristallina – Airolo
The last day of this tour sees you leave the mountains of the Maggia Valley and descend to the Bedretto Valley and then the Leventina Valley. You finish by arriving, triumphant, in Airolo, either on foot or by cable car from Pesciüm.