What's your favorite tour in Ticino? And your favorite pit stops?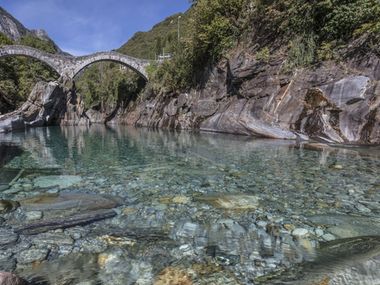 I don't have a favorite one. I like to reach a destination avoiding the fastest route, keeping the following two things in mind: safety and no stress. This way I can use my free time to explore our valleys, regions, and lakes, stopping to enjoy the cuisine, bathing spots, and views. In the Verzasca Valley a classic pit stop is Lavertezzo with its beautiful Ponte dei Salti (Jump Bridge), but it's also great to ride along the Centovalli's narrow curves, all the way to Camedo, at the Italian border.
If you're travelling along the Maggia Valley, be sure to stop for a swim at the Grotto Pozzasc in Peccia or in Val Bavona. When in the Blenio Valley, stop at the Genziana and continue towards the Lukemanier Pass and Disentis, stopping at Capuns all`Alpsu. In the Malcantone region ride by the Sgambada Grotto in Arosio and continue towards Caslano, where you can stop for a beer at the Lido and enjoy a lakeside sunset. Continue towards Agno and feel the American vibe of the Vintage Cafè.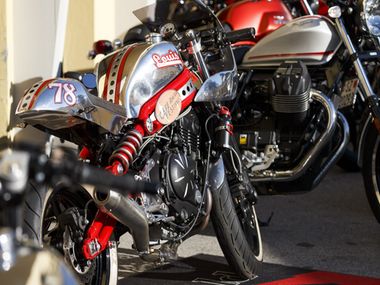 In the Capriasca/Val Colla region, stop at Eros' Mill in Bidogno, passing by Lele's Irish Pub Alpino in Tesserete for a cold Guinness. Pit-stop in Oggio at the Grotthard Cafè and continue first towards Maglio di Colla and then towards the Locanda del Giglio in Roveredo (TI). Alternatively: ride towards Villa Luganese, Sonvico and Cadro. Tell the guys at the Cadrolina Grottino I say "hi"! Along the banks of Lake Ceresio, enjoy a stop in Morcote and continue uphill towards Carona: walk around the village for a breathtaking view or dine at the San Grato Park's restaurant.
Anything else you'd like to tell us?
What else can I add? That Gotthard are back in the studio recording a new album, which will be released at the start of 2017. We will be back on tour starting in February, performing in Switzerland, Germany, and Spain, among others. We will also play at a few summer festivals (to stay up to date: www.gotthard.com). One last thing: leave five minutes earlier and even if you arrive five minutes later it's not that bad… life is too beautiful to waste or lose on the road….