What does traveling with your motorbike feel like to you?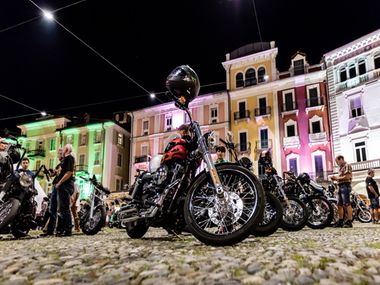 More than travelling, I would call it enjoying escapades with my motorcycle, in the spare time I manage to make for myself, to evade and free the mind from daily routine. That feeling of escaping. I am lucky to ride two similar but very different motorcycles: one is a customized Harley-Davidson Night Train, difficult to tame, while the second one is a docile and gentle Indian Dark Horse. I choose both the motorcycle and destination according to my state of mind.
What's your favorite tour in Ticino?
I don't have a favorite one. I like to reach a destination avoiding the fastest route, keeping the following two things in mind: safety and no stress. This way I can use my free time to explore our valleys, regions, and lakes, stopping to enjoy the cuisine, bathing spots, and views. In the Verzasca Valley a classic pit stop is Lavertezzo with its beautiful Ponte dei Salti (Jump Bridge), but it's also great to ride along the Centovalli's narrow curves, all the way to Camedo, at the Italian border. If you're travelling along the Maggia Valley, be sure to stop for a swim at the Grotto Pozzasc in Peccia or in Val Bavona. When in the Blenio Valley, stop at the Genziana and continue towards the Lukemanier Pass and Disentis, stopping at Capuns all`Alpsu. In the Malcantone region ride by the Sgambada Grotto in Arosio and continue towards Caslano, where you can stop for a beer at the Lido and enjoy a lakeside sunset. Continue towards Agno and feel the American vibe of the Vintage Cafè.
How important is brotherhood among bikers?
I think that the passion for motorcycles can further communication and get rid of social barriers. Mechanics, lawyers, secretaries, bankers, or construction workers: it doesn't matter who you are, where you're from, or what you do because everyone shares the same love for motorcycles! It all starts from greeting another rider, exchanging views on motorcycles with strangers, stopping to help a biker who might be in need of help… These small gestures make what is called the brotherhood, which can certainly turn into friendship
Anything else you'd like to tell us?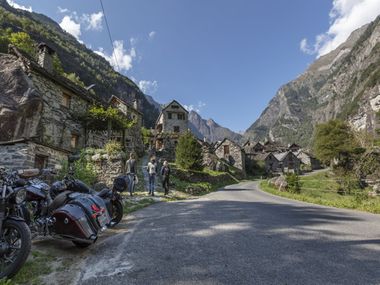 Leave five minutes earlier and even if you arrive five minutes later it's not that bad… life is too beautiful to waste or lose on the road….