Walk through majestic beech woods, sleep under the stars and discover the old traditions of the Onsernone Valley.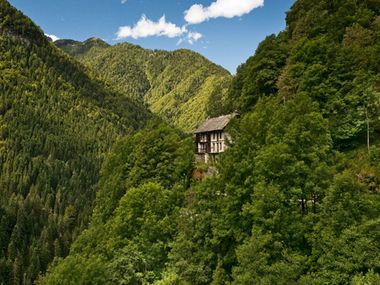 D1 - Lodano Valley & Alpe Canaa
Starting from Lodano in the Maggia Valley, follow the signs to Alpe Canaa.
The route includes a substantial climb (not to be underestimated), however this is offset by the chance to discover some amazing nature and the local culture. In fact, the Valle di Lodano is particularly rich in biodiversity and examples of the rural way of life. Calculate about 4.5 hours to hike through some magnificent old beech woods (UNESCO World Heritage Site) before reaching your accommodation for the night: the Alp da Canaa mountain hut, at the foot of the Pizzo Cramalina mountain.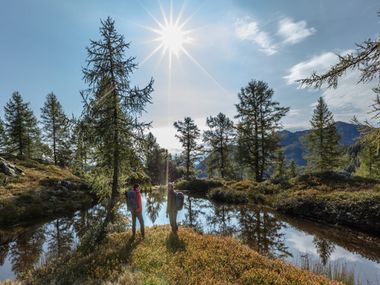 D2 - Alpe Canaa, Vergeletto & Alpe Salèi
The goal the next day is to reach the Onsernone Valley and more precisely the village of Vergeletto. Follow the high path towards Alpe Bassa, before descending to Gresso and Vergeletto below.
Here you can find comfort and overnight accommodation. Well worth a visit is the old mill, of which the locals are rightly proud. This 18th century mill ceased production several decades ago, but has recently been restored and so is now fully functioning and used to ground maize into the famous farina bóna. Follow the delicious aroma of popcorn and enter the mill to discover more about this great tradition in the Onsernone Valley. Contact the local Museo Onsernonese for a guided tour. Your route will take you to your next stop: Alpe Salèi, easily reached by cable car. This mountain is very popular with hikers thanks to its fantastic views and a number of well placed huts. Make the most of these if you have time! Not to be missed is the mountain lake known as Laghetto di Salèi, just a 40 minutes hike away. You spend the night in the Alpe Salèi hut.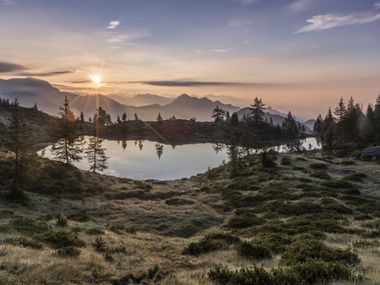 D3 - Comologno & Onsernone Valley
Enjoy the excellent breakfast prepared by the mountain shelter staff before heading off for Comologno down in the valley.
The trail is smooth and easy, winding its way through stretches of dense woodland (mostly larch and pine), forests, mountain pastures and pretty well-kept rural hamlets. Comologno has several fine buildings worth seeing, such as Palazzo della Barca, Palazzo Gamboni and the church of San Giovanni Battista. To really soak up the Onsernonese atmosphere, spend the rest of the day exploring the valley: perhaps you may wish to visit Loco and its terraced vineyards, see the straw-weaving workshop in Berzona or take part in some of the many activities organised by the locals.